Sand making machine
Author: HXJQTime: 8/5/2012 7:14:33 PM
The safety common sense of sand maker.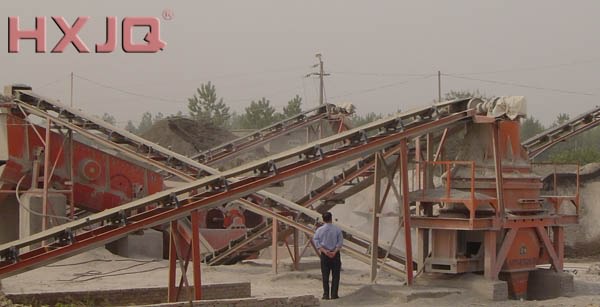 The top bearing of the spindle assembly is the movable end, while the bottom bearing is the fixed end. The pulley should rotate flexibly after being assembled. In the running process of the sand making machine, you should pay special attention to production, because the device is a high-speed device. The relevant personnels should stay away from the equipment. The repair of machine should begin after the shutdown. If problems arise, we recommend your seek professional maintenance crews to resolve. It is strictly forbidden to dismantle the core components without the permission of the manufacturers.
Improving the stability of the impeller device can extend the service life of the sand making machine. At this stage, the amount of the engineering sand is gradually increasing. As a result, the sand and gravel aggregate supplied by the natural sand mining operations is difficult to meet the market demand. Therefore, the mechanism sand or artificial sand industry is gradually on the rise, which also drives the entire construction machinery industry to promote the research and improvement of the heavy mineral processing equipment and processes. As an important part of the sand and gravel production line, the sand making machine plays a very important role in the entire mechanism sand production process, so the stability and durability of its components become very important. The industry believes that the impeller device which play a decisive role for the material injection is the important components of the sand making machine. The stability of the components determines efficiency of the associated conveyor, feeder and the separator.