Why does HXJQ 5X Sand Maker Deserve Your Choice?
Author: HXJQTime: 10/18/2013 7:23:40 PM
With the acceleration of modernization, the development in Xinjiang district has no time to delay and the construction industry in this province has increasing demands for sand. As a region with rich mineral resources, the development potential of Xinjiang is immeasurable, and the market of sand maker will definitely continue to be hot.
The purpose of sand maker is to finely crush the materials to the granularity of -5 mm. In the engineering field, Hongxing sand maker is the ideal production equipment for artificial sand, cushion ply material, bituminous concrete and aggregate. In the mining industry, it is widely used in the stage of pre-grinding as it can produce large quantities of ore powders, which can reduce the ore grinding load whose production cost is high and it is widely used for the medium and fine crushing of high hard and super hard materials such as all kinds of ores, cement, refractory, bauxite clinker, emery and glass raw materials. It has been widely used for artificial building sand, stone materials and all kinds of metallurgical slag, and it has higher output and production capacity than other types of stone crushers.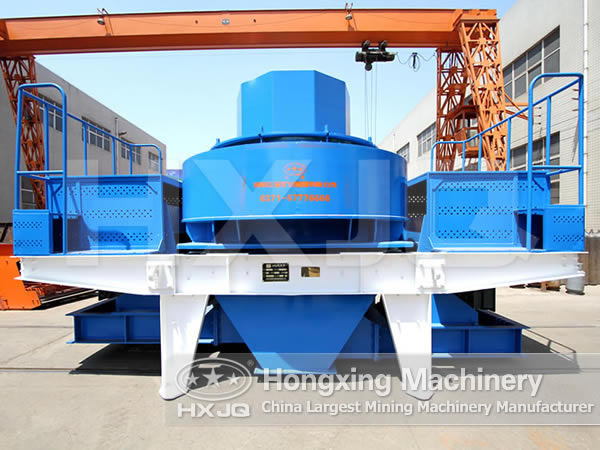 5X series sand maker is widely used in all kinds of metal and non-metallic ore, cement, refractory, abrasive material, glass raw material, building aggregate, artificial sand and metallurgy. It is suitable for the medium and fine crushing of all kinds of ores and rocks with different hardness, such as iron ore, ferrous metal ore, emery, bauxite, quartz sand, brown aluminium oxide, perlite and basalt. 5X sand maker is a new type of sand making machine researched and developed by Hongxing Machinery on the basis of absorbing foreign and domestic advanced technology and combining domestic sand making industry. It is integrated with three crushing modes and is the core equipment in domestic and foreign construction, mine, metallurgy industry and highway, railway, bridge, water and electricity, mineral powder grinding field and artificial sand making industry.
Hongxing 5X sand maker has exquisite technology and deserves your trust. To satisfy the needs of the customers, Hongxing Machinery constantly optimizes the investment scale, pays attention every link and detail from product design, raw material purchase and production and adopts new technology and new materials to ensure the high-standard quality of the products. As for the newly building projects or rebuilt stone crushing production line projects, our company can send engineering technicians to the working site for inspection, planning and technical design and be responsible for the follow-up installation, debugging and maintenance. For the fast and better development of Xinjiang region, Hongxing Machinery is trying our best.