Equipment Needed in and Production Process of Ore Beneficiation
Author: HXJQTime: 8/10/2013 6:17:57 PM
The constant development of ore dressing technology and the improved performance of ore dressing equipment make it possible to efficiently exploit the mines to provide national construction with diverse ore powders types such as non-ferrous metal, ferrous metal, kustelite, tantalum-niobium ore, rare earth ore, kaolin ore and rutile ore. For this reason, more and more investors shift their attention to the ore beneficiation industry. Here come questions, what equipment is needed in the ore beneficiation process? Can desired ore grades be reached through the use of such equipment? How is the whole production process of ore beneficiation? Here the experts of Hongxing Machinery will give a detailed explanation regarding this series of problems.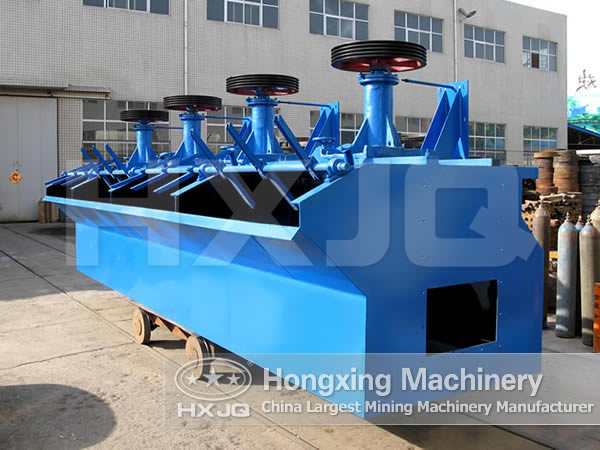 The Equipment Needed in the Ore Beneficiation Process:
The ore beneficiation methods include three types: gravity beneficiation, flotation separation and magnetic separation. Generally speaking, according to the grade and structure of the ores, choose suitable ore dressing method, according to which, ore dressing equipment can be equipped. The commonly used ore dressing equipment include jaw crusher, impact crusher, cone crusher, impact crusher, magnetic separator (dry and wet type magnetic separator and high gradient magnetic separator), flotation machine (common flotation machine and inflatable flotation machine), high efficiency concentrator, bucket mixer, vibrating feeder, tailing collector, spiral separator and spiral chute. Equip proper ore dressing equipment according to the ore dressing method and the final output.
The Production Process of Ore Beneficiation Process:
Ore test→ore analysis→determination of ore dressing method→inspection of crushing site→provision of ore dressing production flow→configuration of ore dressing equipment→foundation treatment→installation and debugging of equipment→normal production after pilot run→sales of final product
Through the above-mentioned production flow, Hongxing experts believe that you already have a general picture to the whole production flow of ore beneficiation. If you want to know whether the mine you bought has exploitation value or not, should need to table a sample and send it to the professional department for analysis and test. If this mine has exploitation value, you may go to an ore dressing equipment manufacturing company to equip the proper ore beneficiation technology, equipment and the follow-up equipment installation.