Milling Equipment
Author: HXJQTime: 4/24/2013 5:50:26 PM
Main Structure of Milling Equipment
The milling equipment is mainly composed of the host, analyzer, blower, cyclone separator and other parts. Milling equipment is mainly applied in the sectors of building materials, chemicals, fertilizer, metallurgy, mining, refractory, ceramic, steel, thermal power, coal and other industries for the grinding of the materials whose Mohs hardness is below 9 and humidity is less than 6%. The fineness of the finished product can be adjusted from 30 mesh to 400 mesh.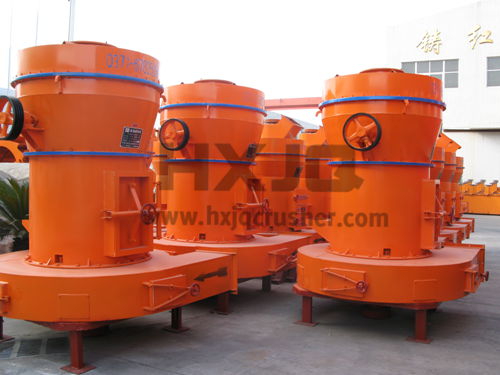 Working Principle of Milling Equipment
When the grinding mill is in operation, the materials to be pulverized will be sent to the machine from the side of the casing and the materials will revolve around the vertical axis by relying on the roller device hanging on the rack. Due to the centrifugal force generated by the rotation, the grinding rollers swing out to press against the grinding ring so that the materials are sent to the gap between the grinding roller and grinding ring, achieving the purpose of grinding.
Points Needed to Pay Attention
When the milling equipment is in operation, it is important to ensure the safety of production. If there were unusual noise or sudden increase of the load of any parts, the operators should immediately stop the machine for inspection and troubleshooting in order to avoid the major accident. If there is the need to start the machine again, the oddments in the milling machine should be removed. Otherwise, the power current is too large, affecting the startup of the machine.