Impact Pulverizer/ Rock Impact Crusher
Author: HXJQTime: 4/23/2013 5:27:39 PM
Impact Pulverizer/ rock impact crusher
Impact pulverizer is a new kind of high-efficiency crushing equipment with selective crushing effect,which has promising prospect. The rock impact crusher can resist compression and it is widely used in building materials, transportation, energy, cement, mining, chemical and other industries for crushing materials.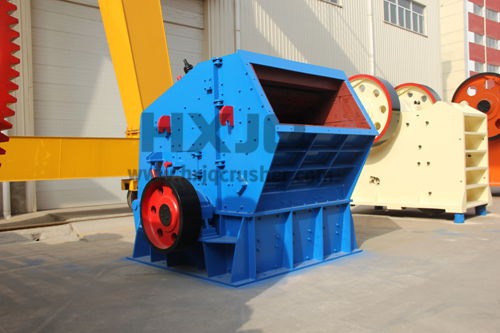 Advantages
1) simple structure, small size, light weight, large capacity, low production costs;
2) ore is crushed along the joint plane, which guarantees the less power consumption and high efficiency;
3) it has the selective crushing role and the granularity of the crushed product is more uniform;
4) large crushing ratio simplifies the crushing process and reduces the cost of the dressing plant;
5) the gap between the back plate and plate hammer can be easily adjusted to realize the effective control of the particle size and particle shape.
Working principle
The impact pulverizer is the crushing machine that makes use of the impact force to crush the materials. When the rock impact crusher is in operation, driven by the motor, the rotor will be in high-speed rotation. The materials will impact against the hammer on the rotor after they enter the operation area of the hammer and then the materials will be re-crushed by being thrown on the counterattack device. This process is repeated until the materials are broken to the desired particle size and then the materials will be discharged from the discharging port. In addition, the adjustment of the gap between the frame and the rotor can change the discharging granularity and the material shape.