Mining Spirals
Author: HXJQTime: 4/21/2013 5:51:52 PM
Superiority and application range
The mining spirals are the commonly used device in the mineral processing process. The spiral concentrator is the optimum equipment for mining and mineral processing. Especially for the placer mining in the seaside, river, sand beach and brook, the spiral chute is more desirable. The spiral chute separator has the advantages of light weight, moisture-proof, antirust, corrosion-resistant, strong adaptability to the feeding and the fluctuations in concentration, particle size and grade, no noise and so on.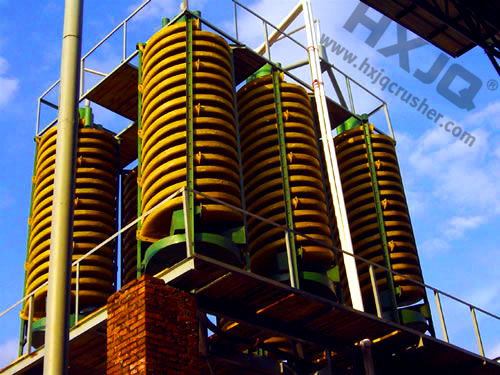 Structural features
The spiral chute separator is assembled by the screw blade which is made of glass fiber reinforced plastic. The inner surface of the blade is equipped with resistant lining that is made of urethanes or the epoxy resin mixed emery. Spiral chute is supported on a metal structure shelve. Above it, there are mineral separation machine and receiving shaft, while the products interception machine and the receiving shaft are on the lower part. According to the different needs of the processing amount, the spiral chute unit can be made into different layers, namely the single head structure, double head structure and so on to meet the various requirements of the users.  
Advantages
1.The gravity spiral chute has reasonable structure, simple installation and small floor space.2.Easy operation, stable ore beneficiation , clear processing and large throughput.3.High efficiency, high beneficiation enrichment, high recovery rate and reliable operation.
Application range This equipment applies to the sorting of fine minerals whose particle size is from 0.3 - 0.02 mm such as iron ore, ilmenite, chromite, pyrite, zircon, rutile, monazite, tungsten ore, tin, niobium ore as well as other non-ferrous metals with differences in the proportion, rare metals and non-metallic minerals. In addition, the spiral chute is easy to operate with stable sorting process, the allowed changing range of feeding concentration is wide, the water consumption is low and other advantages.