Portable Aggregate Plant/ Portable Crushing Plant/Portable Mining Equipment
Author: HXJQTime: 4/19/2013 5:48:56 PM
The portable aggregate plant, which is also known as the portable mining equipment , is a kind of mobile rock crushing operation. It can be regarded as a simple stone production line and it is widely used in railway, highway, construction, water conservancy, metallurgy and other industries.
Application range
(1) It is widely used in mining, coal, earth and stone works, urban infrastructure, roads or construction sites and site operations as well as the recycling of the construction waste.(2) It can be used for the processing of topsoil and a variety of other materials; separation of viscous concrete aggregate and the quarrying industries.(3) It can be also used for the sand making by processing the river pebbles, rocks (limestone, granite, basalt, diabase), ore tailings and stone chips.The portable mining equipment can form the coarse and fine crushing stages according to the actual demand and three-stage crushing system (coarse, medium and fine crushing). It also can run independently, which has large flexibility.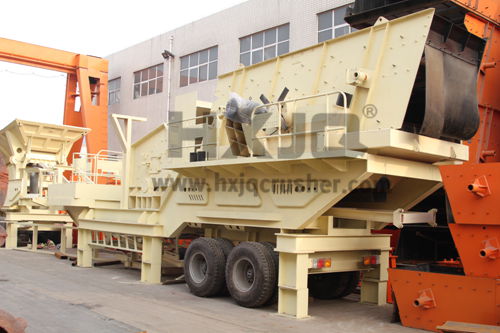 Configuration and performance characteristics
The portable mining equipment is equipped with the jaw breaker, impact crushing machine and other devices, which guarantees the high crushing efficiency, versatility and excellent product quality. It has reasonable structure design and excellent crushing performance. Reliable quality assurance has established a good reputation for quality for the majority of new and old customers at home and abroad. The portable crushing plant is not only easy to operate and conduct maintenance, but also has to establish, not only the technology is mature, operation and maintenance is easy, but also has good adaptability to transportation volume, material particle size and abrasiveness. The integrative configuration enables the portable rock crusher to have high durability and higher aging.