How to Reduce the Loss of Jaw Crusher
Author: HXJQTime: 3/31/2013 5:54:07 PM
The jaw crusher is coarse crushing equipment for ores and other hard materials, and it is characterized by big crushing ratio, high yield, uniform particle size, simple structure, easy maintenance and low production costs. The movable jaw plate makes direct contact with the materials when the jaw crusher is working, and thus it often suffers great load.In the process that sending materials into the opening mouth of jaw crusher, it may be difficult to crush materials of a special firm stones or iron objects. If inappropriate piece of insurance in a timely manner prohibits this from happening, then the hard materials in the crushing chamber will be crushed deformity or even directly impede the operation of the equipment, resulting in downtime review. And if there is insurance ensuring adequate supplies, which will greatly promote the proactive moderation of crusher equipment and production lines.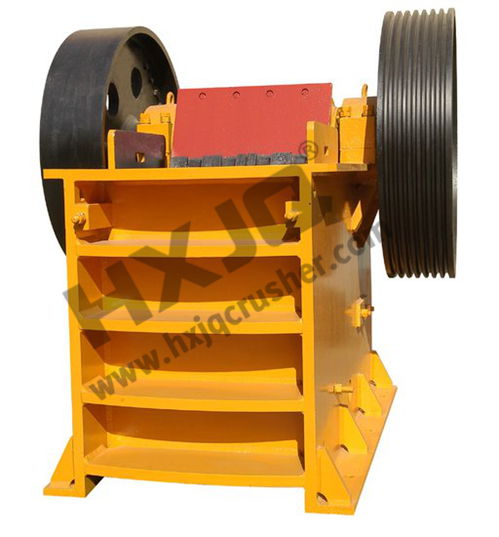 When the non-crushed materials (such as iron, steel balls, etc.) enter the jaw crusher cavity, in order to protect the important parts from damage,therefore we adopt thrust plate as the insurance component of the crusher.The thrust plate individually adopts cast iron to cast overall parts, in which open a slot or certain holes to decline the intensity of its cross-section, and then link up with screws, and composed of a combination of thrust plate. But when non-crushed materials enter the crushing chamber, equipment will generate overload scene,if the big crushing force is sent to the thrust plate, which will cut the lead to a break or a combination of thrust plate screw, machine will stop work, it plays the role of insurance.
This design principle is not only very suitable, but simple holding, low costs of exchanging insurance parts, easy to operate, which is also extremely good without damage.