HPC Hydraulic Cone Crusher
Author: HXJQTime: 3/20/2013 6:15:17 PM
Characteristics of hydraulic cone crusher:
1. Significantly improve crushing ratio and production;
2. To configure three hydraulic insurance institutions;
3. Convenient repair and maintenance
4. Limited analysis technology, higher strength
5. The structure is simple, safe and fast
6. Hydraulic adjustment, thin oil lubrication
  The cone crusher is widely used in mining, cement, sand and gravel industry, for medium and fine crushing pressure of 350 MPa, and a variety of mining rock, such as iron ore, non-ferrous metal ores, basalt, granite, limestone, sandstone, cobblestone.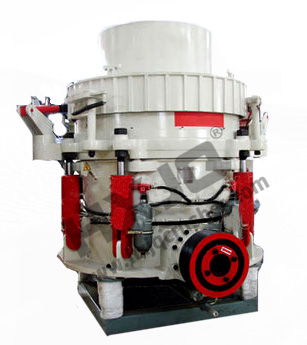 The advantages and features of HPC hydraulic cone crusher:
1.The new HPC series efficient hydraulic cone crusher is configured with insurance cylinder, locking cylinders and hydraulic push cylinder three hydraulic insurance agencies, which not only plays a role as insurance, but also to achieve fault in the case without disassembly of the machine parts.
2.Automatically adjust the size of the discharge, convenient operation, high reliability.
3.Crushing chamber adopts intergranular laminating principle for special design, with the corresponding speed, it significantly improves crushing ratio and production and increase the content of the finished material cube.
4.In the case of iron and instantly boring car, machine can make hydraulic roof, automatic nesting, which greatly reduces the need to shut down the old spring cone crusher artificial nesting trouble, easy maintenance and lower costs.
5.Hydraulic adjustment, thin oil lubrication and effective labyrinth seal way to fundamentally eliminate the common failure of the old-fashioned spring cone crusher oil and water mix.
6.Broken wall and rolling acetabular wall adopts high-manganese steel, coupled with the change of crushing cavity and the protection of material layer, which greatly reduces the wear of machine, compared to old-fashioned cone crusher, general service life increases by 35% -82%.