Sand production line
Author: HXJQTime: 3/12/2013 5:52:45 PM


The sand production line is the production line that specializes in the sand making, which is composed of the vibrating feeder, jaw breaker, the third generation sand making machine, sand washing machine, vibrating screen and other devices. According to different production requirements, various types of devices can form combination to produce the gravels of different granularity.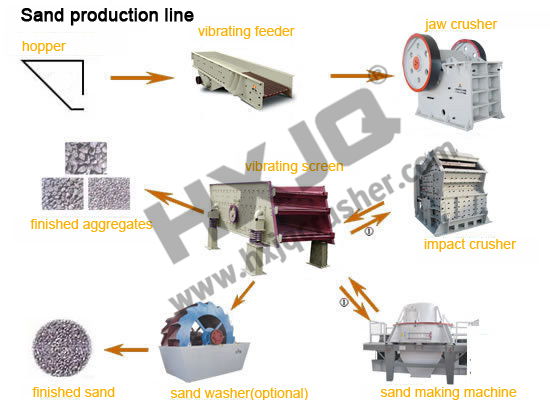 Production process
First of all, the stone will be preliminarily crushed and then the coarse materials are transported to the fine crusher by belt conveyor for further crushing. The materials that have been crushed will be screened. The part that meets the feeding particle size will be used for sand making, while the other part will be sent back to the crusher to be crushed again. Part of the stones that enter the sand making machine will be made into the sand and the other part will be crushed for another time. This whole process is the sand production line.
Performance
Sand production line is featured with the high degree of automation, low running costs, high crushing rate, energy saving, large output, less pollution and easy maintenance. In addition, the mechanism sand produced that has uniform particle size, good grain shape and reasonable gradation is in line with national standards for building sand.
The equipment configuration of the sand production line is primarily based on the stone specifications as well as the production and use of stone to be determined. We provide the customers with full service of pre-sale, sale and after-sale and make the configuration process according to the production field, striving to provide the most reasonable and economical production line for the customers.