Mobile crusher/mobile crushing plant
Author: HXJQTime: 3/7/2013 6:09:12 PM
Mobile crusher is also known as the mobile crushing plant, which is the stone crushing operation with liquidity. It can be seen as a kind of simple stone production line that is widely used in railway, highway construction, water conservancy, metallurgy and other industries. In accordance with the characteristics of the materials to be processed and the different requirements of the finished products, the mobile crusher is especially suitable for the crushing of construction waste. The mobile crushing plant can conduct the coarse crushing, secondary crushing and fine crushing. It regards the elimination of the crushing barriers that are brought by the crushing space and environment as the primary solution from the standpoint of the customers, sincerely providing the customers with the hardware facilities of high efficiency and low cost and greatly expanding the concept of crushing operations. According to the different production process, the mobile crusher can be divided into tracked mobile crushing plant and tyre type mobile crushing plant.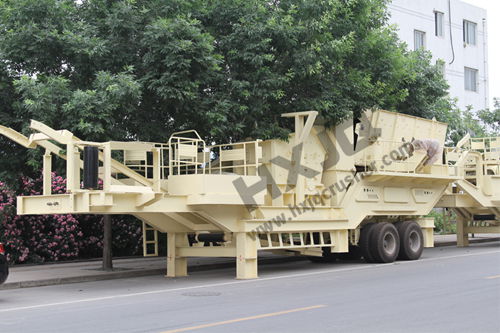 Performance characteristics
The complete configuration makes the mobile crusher have high crushing efficiency, versatility, excellent crushing product quality, lightweight and reasonable structure design and excellent crushing performance. The stable and reliable quality assurance has won good reputation for our customers at home and abroad. The mature technology makes it easy for the operation and maintenance as well as guarantees the good adaptability of the amount of transport, materials particle size and abrasiveness and the safety and reliability. What is more, the integrated unit configuration has high durability and higher aging.
Application range
1, it is widely used for the crushing operations in the coal and infrastructure construction and so on as well as the recycle of the garbage and construction waste.
2, it is also used for the process of topsoil and a variety of other materials; the separation of viscous aggregate; construction and demolition industry.
3, the mobile crushing station also can be used for sand making by handling the river pebbles, rocks (limestone, granite, basalt, diabase, andesite, etc.), ore tailings, stone chips.