spiral classifier
Author: HXJQTime: 11/1/2012 5:44:41 PM
Classifier is widely applied to form a closed circuit with ball mill to process shunt mineral sands in the concentrator, to grade ore and fine mud in gravity concentrator, and to the particle size classification of pulp in metal beneficiation process and the desliming, dehydration and other operations in washing job. The machine has a simple structure, reliable working and easy operation.
Installation, operation and maintenance methods
(A) Installation: machine can be installed without damage nor loose screws. The classifier should be securely installed on the basis of concrete. The foundation should be designed with good supporting role to minimize the shear force on the screw.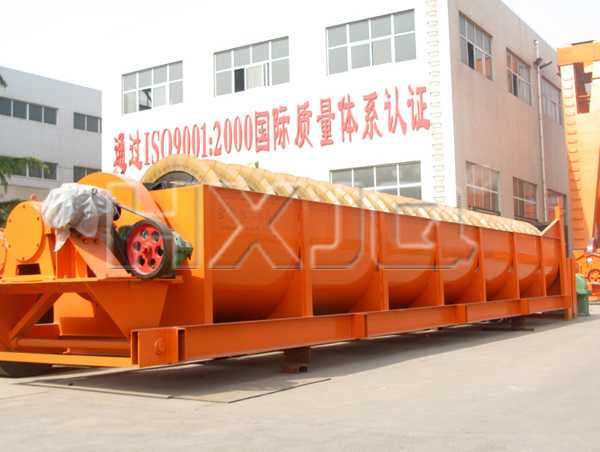 (B) The operator cannot manipulate the machine until clearly understand the structure and working principle.
1. Rotate the spiral before giving into pulp and gradually increase ore.
2. If appear special fault such as being stuck and overload in working condition, please immediately elevate the spirochetes from the slutty and open the ore valve to avoid blockage.
3. When start again, decrease the spiral body be to a certain position and rotate it.
4. If parking is required, please stop feeding first till the materials are completely graded.
(C) Maintenance
1. Adopt sodium soap grease or calcium-based grease to lubricate every lubrication point.
2. Check whether the lubricants inside of the reducer are engraved in oil needle online per shift and change oil every six months.
3. Frequently check the abrasion and damage of lower seat and the middle frame bearing, bearings, seals, so that take timely replacement.
4. Inject high pressure oil to bearing with manual dry pump every 4 hours in order to maintain the sealing performance of the bearing.