gravity spiral chute
Author: HXJQTime: 10/24/2012 6:37:44 PM
Gravity spiral chute is composed of ore divider, feed chute, spiral groove, interception slot, ore bucket and slot bracket. It is widely used in processing tungsten, tin, gold, platinum, iron and some rare metal ores, especially applied in the treatment of low-grade placer.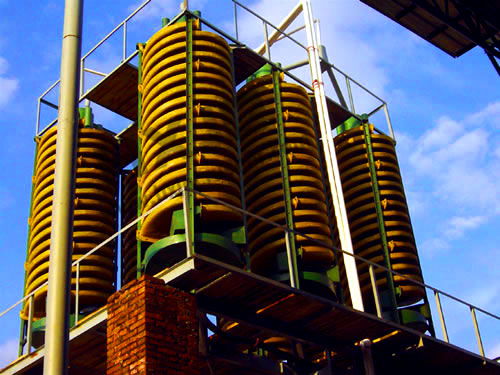 The working process
Erect spiral chute, calibrate the vertical line and fix the machine in the right position with a metal frame or wood; use sand pump to send the ore to the two mouths on the top of the feeding screw, add additional water, adjust the concentration of ore so that the paddle ore naturally and rotationally flow from into the machine, which produces an inertial centrifugal force in rotary bevel velocity and then separate sand and ore by the action of gravity and centrifugal force and the differences in the proportion, size, shape; concentrate inflows to the concentrate bucket and be collected by pipe; mill tailing flows into the tailing bucket and be drained away by sand pump; that is the whole process of beneficiation.
Advantage
The product has reasonable structure, simple installation, small footprint, easy operation, stable beneficiation, large processing capacity, high efficiency, high beneficiation enrichment, high recovery, reliable operation, low investment and production cost. It is featured with light weight, moisture proof, antirust, corrosion-resistant, high adaptability to the fluctuations in ore concentration, particle size and grade without noise.
Applications
It is applied to sort the iron ore, limonite, chromites, pyrite, zircon, rutile, monazite, phosphorus B ore, tungsten ore, tin, tantalum ore, niobium ore, as well as other non-ferrous metals, precious metals and non-metallic mineral body of specific gravity difference.