mineral processing shaking table
Author: HXJQTime: 10/23/2012 7:58:32 PM
Mineral processing shaking table is usually composed of three parts: the bed, rack and transmission mechanism; besides the above, there are also flushing tank, feed chute and base. The entire bed is supported or lifted by the rack, which is equipped with slope regulation device. Beneficiation shaker allows mineral particles doing different movement along different directions according to their density and particle size, and fanning out from the starting of feed chute along the diagonal and discharge materials along the edge of the bed surface in turn; the discharge line is long, so it can accurately estate a variety of different quality product, such as concentrates, sub-concentrate and tailings, etc.
Beneficiation shaking, as the re-election equipment, has been widely used for the separation of placer gold and other minerals, mainly for gold or coal preparation.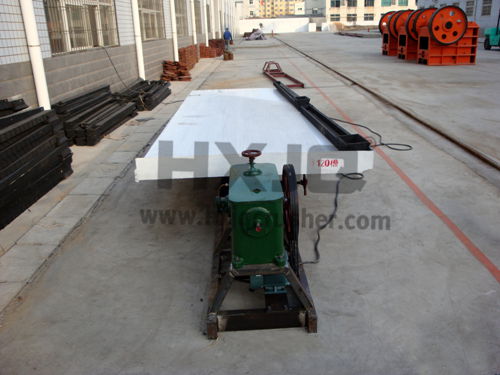 Classification:
Ore beneficiation shaker, slime beneficiation shaker, glass steel beneficiation shaker, 6-S beneficiation shaker, LS beneficiation shaker.
Influencing factors
The asymmetry of shaker movement: it has great influences on the selective removal of ore particles along the longitudinal direction and bed loose.
Stroke and jig frequency: they directly determine the movement speed of bed surface and the size of accelerated velocity. As for the coarse grained materials and big load operation, we can use big stroke and small jig frequency; otherwise, using small stroke and big jig frequency.
Water and slope: they affect the transverse flow velocities and the thickness of the water layer of the bed surface and determine the lateral transferring speed of mineral particles and cleaning effects.
Feeding volume and feeding concentration: they both affect the stratification and transporting speed. Excessive volume increases the thickness of the bed, deteriorates delamination and increases transporting speed to elevate tailings grade and decline the recovery rate. Too small volume declines handling capacity.
Feeding size and shape: they affect the accuracy of sorting by density. To this end, classification and desliming before selection is necessary.